NUCYNTA® ER (tapentadol): WELL‑DEFINED TOLERABILITY PROFILE
INCIDENCE OF TEAEs REPORTED BY ≥2% OF SUBJECTS WITH cLBP1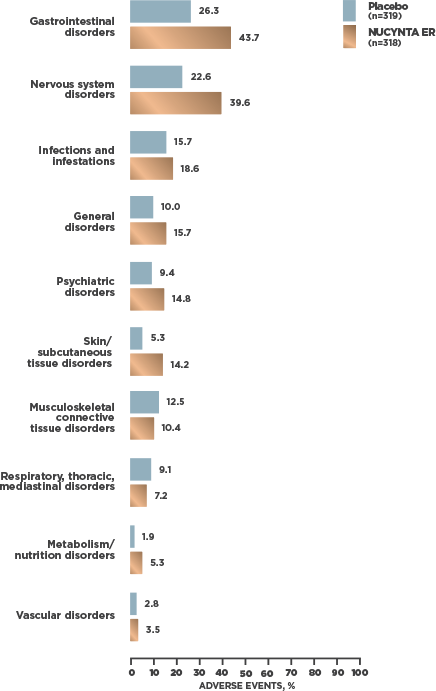 CR: Controlled release; ER: extended release; TEAEs: treatment‑emergent adverse events.
At cLBP study end, 95.2% [59/62] of patients receiving NUCYNTA ER experienced no opioid withdrawal after abrupt discontinuation of treatment without tapering2
In vitro studies did not reveal any potential of NUCYNTA ER to either inhibit or induce cytochrome P450 enzymes

A minor amount of NUCYNTA ER is metabolized via the oxidative pathway
Thus, clinically relevant interactions mediated by the cytochrome P450 system are unlikely to occur3
The most common reasons for discontinuation due to adverse reactions in eight phase 2/3 pooled studies reported by ≥1% in any NUCYNTA ER dose group for NUCYNTA ER- and placebo‑treated patients were nausea (4% vs 1%), dizziness (3% vs <1%), vomiting (3% vs <1%), somnolence (2% vs <1%), constipation (1% vs <1%), headache (1% vs <1%), and fatigue (1% vs <1%), respectively
*Oxycodone CR was included in the study as an active control to confirm the sensitivity of the pain models. No opioid withdrawal after abrupt discontinuation was experienced by 91.1% (82/90) of patients in the Oxycodone CR group2
References:
Data on file, Collegium Pharmaceutical, Inc.
Buynak R, Shapiro DY, Okamoto A, et al. Efficacy and safety of tapentadol extended release for the management of chronic low back pain: results of a prospective, randomized, double‑blind, placebo‑ and active‑controlled phase III study. Expert Opin Pharmacother. 2010;11(11):1787‑1804.
NUCYNTA ER [package insert]. Stoughton, MA: Collegium Pharmaceutical, Inc.; 2018.