THE BURDEN OF CHRONIC PAIN
Chronic pain affects more adults in the U.S. than diabetes, heart disease, and cancer combined1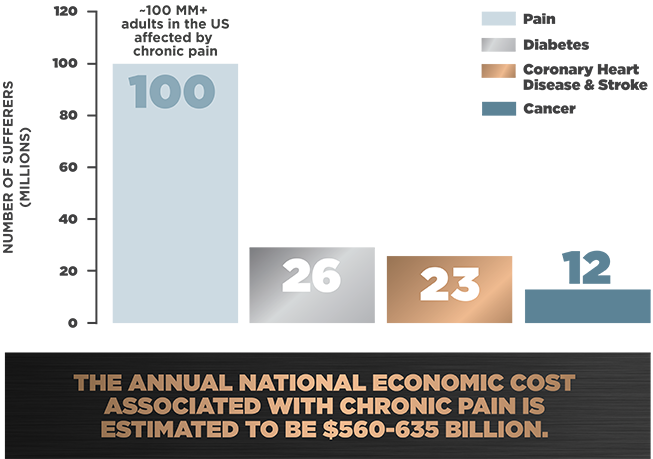 COMPLEXITY OF CHRONIC PAIN MANAGEMENT
Studies suggest chronic low back pain MAY have components of nociceptive and neuropathic pain2
In an epidemiology study (N=85,014), 44% of patients suffered from a mix of nociceptive and neuropathic pain2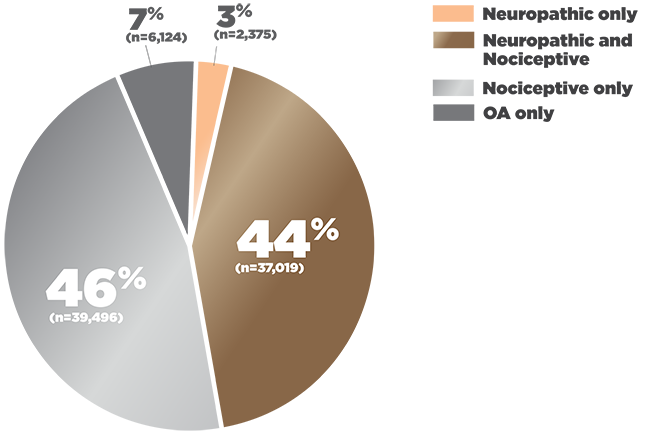 Study Design +
Study design:
In a 2-year claims-data analysis study, patients receiving treatment for neck and back pain (N=85,014) were assessed to provide insights into the challenges physicians face when treating pain. Patients included had neuropathic (n=2,375), nociceptive (n=39,496), a mix of neuropathic/nociceptive (n=37,019), and osteoarthritis (n=6,124) pain. All analyses were conducted by cohort and included the following patient descriptive variables: patient demographics, comorbidities, office visits, most frequent medical providers and number of different prescribers, prescription claims, pain medications as classified by the World Health Organization (WHO) pain ladder, adjuvant medications, adjuvant procedures, and potential drug interactions.2
Study population: Patient cohorts included neuropathic-related neck/back diagnoses; neuropathic and nociceptive neck/back diagnoses; nociceptive neck/back diagnoses without a neuropathic-related diagnosis; and osteoarthritis (OA) diagnoses.
COMMON TYPES OF CHRONIC PAIN
Below are types of chronic pain, including diabetic peripheral neuropathy and conditions that originate or are common to the low back. Patients with chronic pain conditions may have both a neuropathic and a nociceptive component.3

DIABETIC PERIPHERAL NEUROPATHY (DPN):
A complication of diabetes in which high blood glucose may damage the tiny blood vessels carrying oxygen and nutrients to the small nerves in the hands and feet.4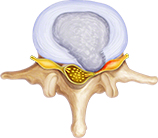 INTERVERTEBRAL DISC DISEASE:
A condition typically caused by aging in which discs in the vertebral column deteriorate or herniate, causing them to lose fluid, elasticity, and shock-absorbing capabilities.5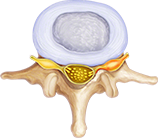 RADICULOPATHY:
Nerve damage typically caused by inflammation or impingement of a nerve root, causing weakness and/or pain radiating the length of the nerve.6

SCIATICA:
A form of radicular nerve pain, often caused by pressure on the nerve root at L5‑S1, causing pain that radiates down the back of the leg.6

ARTHRITIS:
There are several forms of arthritis of the spine (known altogether as spondyloarthropathies). These include:
Osteoarthritis:
Occurs when the cartilage that protects the bones of the spinal area breaks down, causing bones to rub together, which leads to spurs that press against nerves.7
Ankylosing Spondylitis:
An inflammatory disease in which the ligaments and bones of the spine fuse together, resulting in a stiff, fused, painful spine.8
Rheumatoid Arthritis:
Occurs when the immune system attacks soft tissue surrounding the joints of the spine, which can place pressure on the spinal cord or spinal nerve roots.7
Spondylolisthesis:
A condition in which a lower vertebra slides out of place on top of the vertebra below it, commonly between L4 and L5, causing low back pain.8,9
References
Data on file. Collegium Pharmaceutical, Inc.; 2018.
Kozma CM, Provenzano DA, Slaton TL, Patel AA, Benson CJ. Complexity of pain management among patients with nociceptive or neuropathic neck, back, or osteoarthritis diagnoses. J Manag Care Pharm. 2014;20(5):455-466.
Pergolizzi JV, Schug SA, Raffa RB, Taylor R. Tapentadol and dual pain inhibition: a new strategy for pain relief in Australia. Chronic Dis Int. 2015;2(1):1011.

Toft D. Diabetic neuropathy causes. Endocrineweb. http://www.endocrineweb.com/guides/diabetic-neuropathy/diabetic-neuropathy-causes. Updated November 24, 2015. Accessed March 17, 2016.

Lewis S, Dirksen S, Heitkemper M, Bucher L.

Clinical Companion to Medical-Surgical Nursing. 9th Ed.

St. Louis, MO: Elsevier Health Sciences; 2014:362-363.

Laroche F, Serge P.

Managing Sciatica and Radicular Pain in Primary Care Practice. New York

, NY

: Springer Science & Business

Media; 2013.

Arthritis and diseases that affect the back. Arthritis Foundation. Accessed November 20, 2015. http://www.arthritis.org/about-arthritis/where-it hurts/back-pain/causes/back-arthritis.php. Accessed March 17, 2016.

Stedman's Medical Dictionary. 27th ed. Philadelphia, PA: Lippincott Williams & Wilkins; 2006.
Frymoyer JW. Degenerative spondylolisthesis: diagnosis and treatment. J Am Acad Orthop Surg. 1994;2(1).