TAPENTADOL: POTENTIAL NOVEL COMPLEMENTARY DUAL MECHANISMS OF ACTION1
Tapentadol, the active molecule in NUCYNTA® ER , has been shown in preclinical and animal studies to activate the mu-opioid receptor (MOR) and inhibit reuptake of norepinephrine1*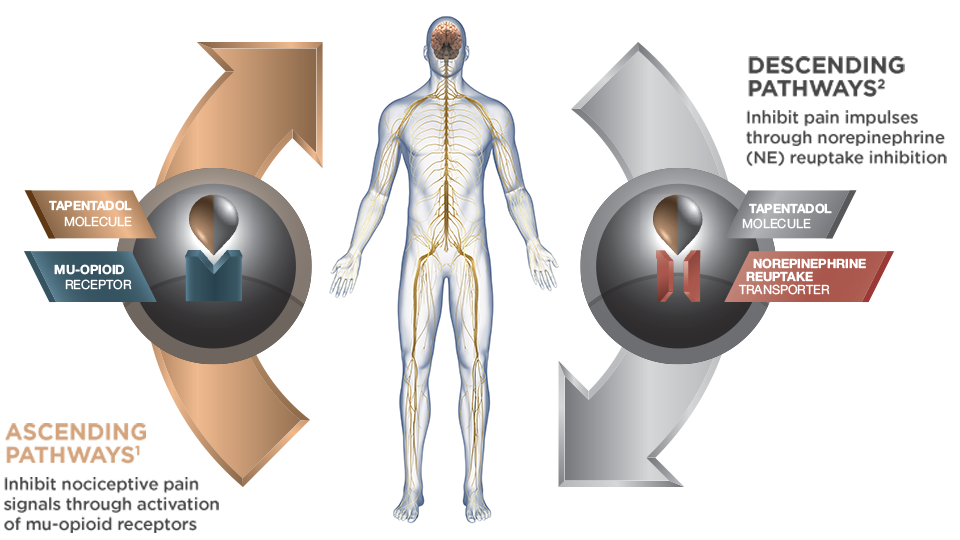 *

Tapentadol is a centrally acting synthetic analgesic. The exact mechanism of action is unknown.
*

Although the clinical relevance is unclear, preclinical studies have shown that tapentadol is an MOR agonist and a norepinephrine reuptake inhibitor (NRI). Analgesia in animal models is derived from both of these properties.
CONTRAINDICATIONS:
Significant respiratory depression; acute or severe bronchial asthma or hypercarbia in an unmonitored setting or in the absence of resuscitative equipment; known including paralytic ileus; hypersensitivity (e.g., anaphylaxis, angioedema) to tapentadol or to any other ingredients of the product; concurrent use of monoamine oxidase inhibitors (MAOIs) or use of MAOIs within the last 14 days.