NUCYNTA® ER

: TITRATE TO AN OPTIMAL THERAPEUTIC DOSE 1
NUCYNTA® ER

is available in 5 dosage strengths for titration to a therapeutic dose
NUCYNTA® ER

IS AVAILABLE IN 50 MG, 100 MG, 150 MG, 200 MG, AND 250 MG TABLETS 1

Tablets shown not actual size.
Download Tear Sheet
INITIATE 1
For patients receiving their first opioid analgesic
Start with 50 mg ~q12h
For patients converting from other opioids*
Start with half of the estimated daily dose of tapentadol and supplement with immediate-release analgesic as needed
Discontinue all other tapentadol and tramadol products and all other around-the-clock opioids
TITRATE 1
Individually titrate

NUCYNTA® ER

to a dose that provides adequate analgesia and minimizes adverse reactions
Continually reevaluate patients receiving

NUCYNTA® ER

to assess the maintenance of pain control and the relative incidence of adverse reactions, as well as monitoring for the development of addiction, abuse, or misuse
MAINTAIN 1
The maintenance dose is 100 mg to 250 mg twice daily
Maximum 24-hour dose is 500 mg. Do not exceed a total daily dose of 500 mg
*Patients who are opioid tolerant are those receiving, for one week or longer, at least 60 mg oral morphine per day, 25 mcg transdermal fentanyl per hour, 30 mg oral oxycodone per day, 8 mg oral hydromorphone per day, 25 mg oral oxymorphone per day, or an equianalgesic dose of another opioid.
DOSAGE AND ADMINISTRATION: Conversion from other opioids to

NUCYNTA® ER:
There are no established conversion ratios for conversion from other opioids to NUCYNTA® ER defined by clinical trials. Discontinue all other around-the-clock opioid drugs when NUCYNTA® ER therapy is initiated.
NUCYNTA® ER

: TITRATE TO ACHIEVE ADEQUATE ANALGESIA AND MINIMIZE SIDE EFFECTS 2
MEAN TOTAL DAILY DOSES OF
NUCYNTA® ER

IN A CHRONIC LOW BACK PAIN STUDY 2,3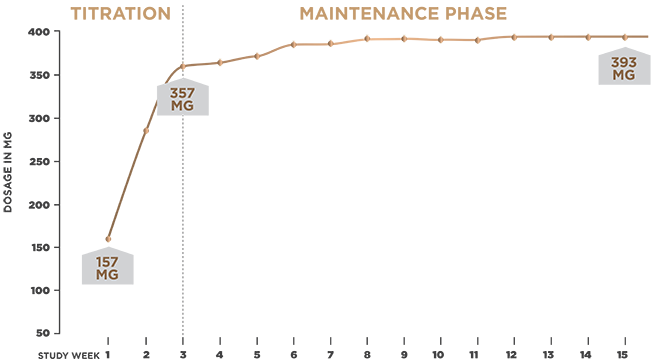 Study Design +
Study population: Patients who were both opioid naïve and opioid experienced underwent a washout period before starting NUCYNTA® ER 50 mg twice daily.
3-week titration period: Patients started with NUCYNTA® ER 50 mg bid. After 3 days, doses were increased to 100 mg bid, the minimum dose allowed for the remainder of the study.
12-week maintenance phase: Patients received adjustable doses of NUCYNTA® ER 100-250 mg bid to achieve adequate analgesia and minimize adverse reactions.
DOSAGE AND ADMINISTRATION:
NUCYNTA® ER should be prescribed only by healthcare professionals who are knowledgeable in the use of potent opioids for the management of chronic pain. Initiate the dosing regimen for each patient individually, taking into account the patient's prior analgesic treatment experience and risk factors for addiction, abuse, and misuse. Monitor patients closely for respiratory depression, especially within the first 24–72 hours of initiating therapy with NUCYNTA® ER.
Study design:
In a prospective, randomized, double-blind, active- and placebo-controlled, multicenter phase 3 study, subjects with moderate to severe chronic low back pain (N=981) were selected to evaluate the efficacy and safety of NUCYNTA® ER. Subjects were randomized in a 1:1:1 ratio to receive controlled, adjustable doses of NUCYNTA® ER (100-250 mg bid), oxycodone CR (20-50 mg bid), or placebo bid. This study was designed with a dose ratio of 5:1 for NUCYNTA® ER to oxycodone CR. Therefore, 100 mg to 250 mg of NUCYNTA® ER and 20 mg to 50 mg oxycodone CR were studied. The study was not designed to establish equianalgesic doses. Oxycodone CR was included for analgesic assay sensitivity and not as a head-to-head comparator. The study consisted of a screening period, a washout period, a 15-week treatment period (3-week double-blind titration period followed by a 12-week double-blind maintenance period), and a follow-up period. No breakthrough medication was allowed for low back pain during maintenance period. The primary efficacy endpoint was change from baseline in mean pain intensity at Week 12 on the Numerical Rating Scale. The co-primary efficacy endpoint was change from baseline in mean pain intensity over the entire 12-week maintenance period. 2
CONVERSION FROM NUCYNTA® (TAPENTADOL) TABLETS, CII TO NUCYNTA® ER 1
Patients can be converted from NUCYNTA® to

NUCYNTA® ER

using the equivalent total daily dose of NUCYNTA® and dividing it into 2 equal doses, separated by ~12-hour intervals
Although the maximum approved total daily dose of immediate-release NUCYNTA® is 600 mg per day (700 mg on the first day of therapy), the maximum total daily dose of

NUCYNTA® ER

is 500 mg
NUCYNTA® ER

must be swallowed whole, with or without food. 1
References
NUCYNTA® ER (package insert). Titusville, NJ: Janssen Pharmaceuticals, Inc; 2014.
Buynak R, Shapiro DY, Okamoto A, et al. Efficacy and safety of tapentadol extended release for the management of chronic low back pain: results of a prospective, randomized, doubleblind, placebo- and active-controlled Phase Ill study. Expert Opin Pharmocother. 2010;11(11):1787-1804.
Data on file. Depomed, Inc; 2009 (cLBP).